Nowadays the pandemic of Covid-19 is causing devastating consequences all around the world. The virus keeps hospital staff on their toes, dominates the headlines and has caused drastic changes in almost everyone daily lives. So even semesters abroad at universities have turned out differently than expected. This is the case of Abat Oliba ex-change students. While Filipa Mato from Portugal is doing her Erasmus semester in Barcelona despite the pandemic, Surya Karthikeyan from Germany has decided to stay in his country for the time being.
Less exchange students at Abat Oliba
According to the international mobility department of Abat Oliba, in a normal year they would receive 100 people per semester to study at the university. However, this course 2020-2021 and because of the sanitary issues, they have only welcomed 40 people for both semesters, mainly from Europe and willing to study communication and economic degrees. "This semester we only have 5 people from America. Those numbers used to be higher in the past", Malgorzata Smigiel admits.
Even though there are fewer international students this semester, 95% of them have chosen to fly to Spain to experience the opportunity abroad and to avoid having all the classes online. Consequently, the other 5% are those who have decided to stay at their home countries.
Erasmus at home 
Twenty-year-old Surya Karthikeyan is one of them. For this international business student, his semester abroad at Abat Oliba not only takes place completely digitally, he also attends his courses from Gaimersheim in Germany. Although entering Spain is currently more difficult than usual – according to the Federal Foreign Office of Germany, a negative test result from a molecular biology test must be carried along – it is possible in principle.
Nevertheless, Surya has decided to stay in Germany at the moment. In addition, he says, he is accustomed to the strict coronavirus measures in Germany and finds their implementation appropriate. He wants to avoid falling ill with Covid-19 in Spain.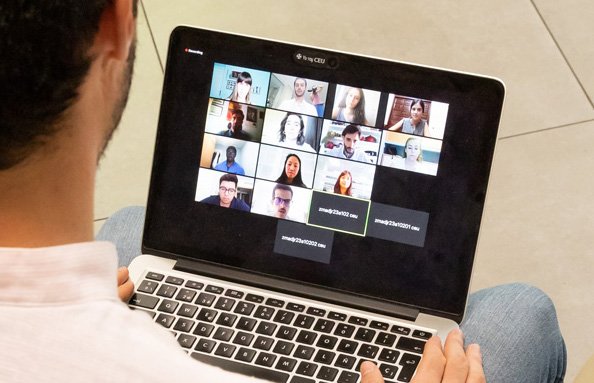 Therefore, he waits with the departure in the optimal case until he is vaccinated. When the other Erasmus students on site in Barcelona write in the common group chat, he sometimes regrets his decision a little: "They ask each other if they want to go to the beach, to the tapas bar and many other places in the city".
He loves the Spanish culture that much; he would be happy to enjoy the weather and the beach in Barcelona. Still, it does not make that much difference to him how his semester abroad plays out. Surya was born in India, lived in Switzerland for four years and now lives in Germany. "All this time, I have always been in international schools, so I was already exposed to so many different cultures and I have had the opportunity to be a third culture kid", he explains.
Apart from a few minor technical difficulties, he is also coping well with the virtual semester abroad. And although the situation saddens him a bit, he even sees a great opportunity in virtual learning: "I guess I am a bit proud of being one of the generations that get to experience this because I do think that this could actually be the new future".
Covid-19 restrictions in person
Another completely different case than Surya's is Filipa Mato's situation. She is 26 years old and from Lisbon. Filipa is currently studying her Erasmus at Abat Oliba University in the Communication degree and she was able to fly to Spain at first instance despite the Covid-19 pandemic. She combines online classes with presential ones, as much as the other students from the third grade. To came here she only had to take the Covid-19 test, in which she was negative. Therefore she was able to reach the country. Moreover, she admits the reason she chose Spain was because of the colorful buildings, the culture, the people and the proximity to Portugal. "Doing the semester here it's a great opportunity to meet people from all around the world, learning a new language and be close to a different culture", she says.
However, although all the perks, Filipa is also aware of the many restrictions that the pandemic has imposed in or daily basis. As a result, Erasmus parties do not longer exist, and the use of the face mask is compulsory. In addition, freedom of movement has also been restricted and the curfew and hygienic measures prevent more infections. "At least here the situation it's actually better than in Portugal", she concludes.
In conclusion, whether you spend your exchange semester on site in Spain or virtually in Germany, you will always have to face a few challenges. With Covid-19 they are just slightly different than usual – but that does not mean it is not worth it.