Barcelona is a wonderful city full of culture and events. However, by opening yourself up to taking trips to the places around Barcelona, you can gain a new perspective of the nation, as well as make some new memories. Here are 10 of the best day trips to take from Barcelona, including coastal towns, mountain villages, natural parks, and everything else in between. 
Girona
If you're a Game of Thrones fan, this is the perfect location for a day trip. The town of Girona is a historical town filled with history, shopping, restaurants, and sightseeing. It also happens to be known as the iconic region Dorne from the show Game of Thrones, as season 6 of the American TV show was filmed in the old town. This is a fantastic trip to take for those who like a city life and historical buildings.
Figueres
The town of Figueres is the hometown of the great painter Salvador Felipe Jacinto Dalí i Domènech, commonly referred to as Salvador Dalí. The town is small but quaint, and offers the Dalí Theatre and Museum, a museum designed by & centered around Dalí himself. The Dalí theatre contains the largest and most diverse collection of Dalí's works in the world, including 3-D instalations, pieces from his personal collection, and a range of works from all throughout his career. This town is definitely a must-visit trip for the artistic.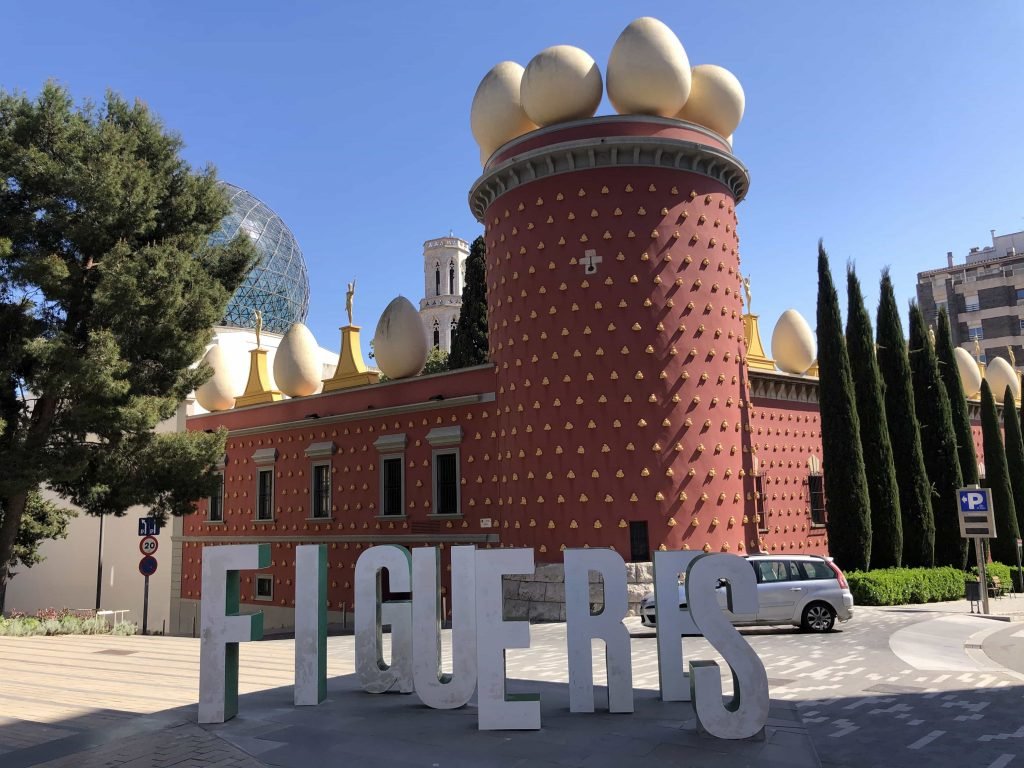 Sitges
With its soft-sand beaches, shopping, and variety of restaurants, tourists seem to flock to Sitges- and for good reason. The buildings are Meditteranean-style, and have almost a Greek-like quality to them with their crisp white paint and colorful embellishments. One of the best-kept secrets of this town is the Palau de Marice- arguably the most beautiful building in the town. Garnished by an ensemble of artistic decor, the Palau is a unique and incredible building with different decor in each room. Right now, you can explore this building for just a few euros, and the rooftop has an incredible view of the ocean- the experience is totally worth the money!
Tarragona
Tarragona is a port city south of Barcelona that offers beachside views, Roman ruins, and a historic old town. A lot of families reside in this area, so if you are looking to take your children, cousins, or siblings somewhere, this is the place. Full of antiquity and culture, Tarragona is a unique educational visit that shows the history of the Roman demise. This is a great trip to take for those who love Roman history.
Lloret de Mar
Located in the Costa Brava, Lloret de Mar is the place to go for blue waters & a friendly atmosphere. The town is filled with (currently closed) clubs and concert halls, and is a spring-breaker's dream destination. However, now due to COVID, it is a charismatic beach town perfect for a quiet, relaxing day at the beach and a hike around the cliffs. A trail is located on both sides of the beach cliffs, and both cliffsides contain a different historical castle. If you like photography, now is the perfect time to capture this town, as the lack of tourists make the views that much more incredible.
Montserrat
Hikers beware- you won't be able to keep yourself away from this one! Mount Montserrat is a monk mountain peak just a train away from Barcelona. Characterized by the famous Monastery located within the town, now is the perfect time to view the famous church, since tourists are minimal. The hike up the mountain is simple and straightforward, and perfect for beginner or less experienced hikers. It takes about two hours to reach the peak, but the view is definitely worth it. 
El Parque Natural del Montseny
The natural park of Montseny is the oldest and one of the most important natural preserves of Catalonia. This park is particularly special because it contains plants of the three major European biomes- the Mediterranean (holm oaks, cork oaks and Aleppo pine), the Eurosiberian (Scots pine, beech, and white fir) and boreoalpine (alpine meadow). This place is a families, hikers, and nature-lovers paradise, and a great nature trip to take.
Mt Tibidabo
Although Tibidabo is located within the outskirts of Barcelona, a day trip is necessary if you want to hike the mountain yourself. It takes about an hour or two to climb the mountain, and about an hour back down. Of course, you can always opt for the bus and cablecar, if hiking is not in your calender. The Tibidabo Church looms at the mountain peak, and the main room inside is free to view, though you have to pay a small fee to visit the rooftop & upper parts of the church. There is also an amusement park at the top that is currently closed due to COVID, and many "miradors", or lookout points. The most well-known mountain in Barcelona, Tibidabo holds spectacular views and is well worth the trip up.
Casteldefels
If luxury is more your style, Casteldefels is the city for you. Located just a short train ride from Barcelona, the expansive beaches and specialty shopping stores are sure to attract anyone who prefers the more expensive things in life. Home to famous media personalities and sportsmen, the city attracts many visitors, and you might even catch a glimpse of your favorite celebrity if you are lucky.
Sant Feliu de Guíxols
The coastal town of San Feliu is a gorgeous place to visit for a beach trip or a cliff exploration adventure. In addition to a beautiful spread of beach, it also has many large rocky areas over the sea that are easily accessible by foot. If that's not your cup of tea, the township also has great shopping, museums, artistic stores, and even art exhibitions. Located in Costa Brava not far from Girona, this town is an ocean-lover's dream.
Whichever trip you choose to take, one thing is constant: you are in for a wonderful adventure that is packed with nature and culture. Catalonia has so many historical and natural treasures, and springtime is the perfect time to go exploring. So pack your bags, and don't forget your train ticket!
For more things to do in Barcelona, check out this article: 5 activities you can do while staying within the Barcelona region